Pulse IPT Lithium Batteries are the latest innovation in Lithium Ion Start Batteries. A ground up design 3 years in the making, the new Pulse IPT battery offers an industry exclusive 5 year warranty, UNDOT rated case, internal battery over charge and discharge protection and more cranking power than any other brand on the market. All these features, and you can still use a standard battery charger!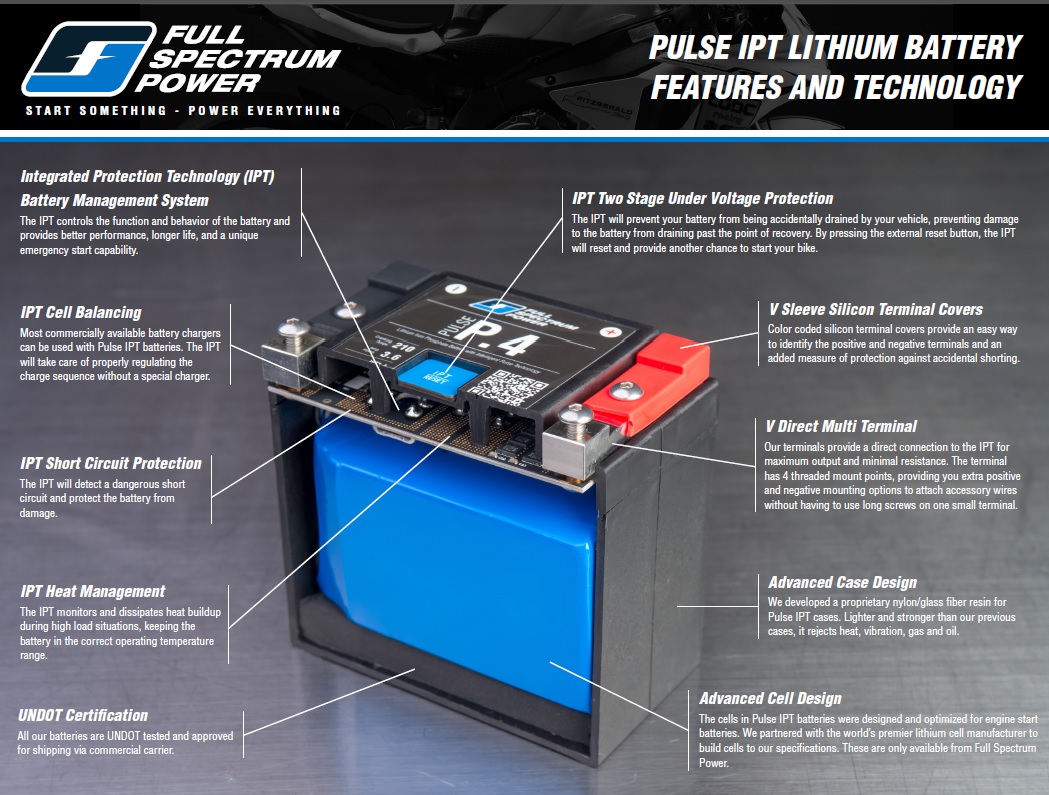 PT Battery Management System (BMS) is built into the battery controls the function and behavior of the battery. It protects the battery in the event of a dangerous short circuit, keeps the cells balanced while charging AND while being used, monitors and dissipates heat buildup during high load (starting), keeping the battery from overheating and has a two stage under voltage protection feature. This will prevent your battery from being accidentally drained by your vehicle - preventing damage to the battery, and by pressing the external reset button, the IPT will reset and provide another chance to start your bike.
Advanced Cell Design The cells in the Pulse IPT Batteries are not off the shelf or round cells you find in other brands. These were designed and optimized for engine start batteries. Full Spectrum Power has partnered with the world's premium lithium cell manufacturer to build cells to their exact specifications. These are only available in the Pulse IPT Lithium Battery.
V Direct Multi Terminal Our terminals provide a direct connection to the IPT Battery Management System for maximum output and minimal resistance. The billet copper terminals have 4 threaded mount points, providing additional positive and negative mounting options to attach accessories. Color coded silicon terminal covers provide an easy way to identify the positive and negative terminals and an added measure of protection against accidental shorting.
UNDOT Certification All Full Spectrum Pulse IPT Batteries are UNDOT tested and approved for shipping via commercial carrier.
Advanced Case Design We developed a proprietary nylon/glass fiber resin for Pulse IPT cases. Light and stronger than our previous case, it rejects heat, vibration, gas and oil.
Selectable Power Levels Every Pulse IPT Battery Case has two or more battery power levels you can choose from when you order. If you just need a standard power level to replace that heavy lead acid battery, we've got you covered. Maybe you need a little more punch for the higher compression engine you just installed? Or, maybe you need the maximum available power you can get. Whatever power level you need, we have it!